For years we have heard the saying "when life hands you lemons, make lemonade." It is a cute saying and one that is good to follow, but it is not always easy to do so. Men and women are different, with different personalities, temperaments, and backgrounds. These differences combine to create individuals that are unique and ever-changing. What makes one person ecstatically happy would not make the next person happy. However, if we try to find happiness in a person, a job, money, or fame, we will find that happiness is illusive and quickly fades. But there is a way to find a happiness that is greater than any based on external things. True happiness comes in following God, our heavenly Father. How do we find that happiness? Let us look at some of the ways as we use the words happiness and joy interchangeably.
The fruits of the Spirit are listed in Galatians 5:22-23 which says, " But the fruit of the Spirit is love, joy, peace, longsuffering, gentleness, goodness, faith, Meekness, temperance: against such there is no law." Joy is a product of the Spirit, but how do we get that joy? It is very simple, we must have the Spirit dwelling inside of us, and that happens only when we have given our lives to Jesus Christ at which time the Holy Spirit of God comes to dwell within our hearts. The Holy Spirit begins to teach us and guide us in following God to help us to become more Christlike. It does not happen over-night but is an ongoing process that continues until the day we die.
The Holy Spirit guides us in many ways, one of which is through the study of God's word. We cannot know what God wants us to do unless we get to know Him through His Word, the Bible. As we read the Bible, the Holy Spirit helps us to understand what we are reading as we are capable of understanding it. That is why we can read the same passage numerous times and get something new from it each time we read it. Psalms 119:11 says, "Thy word have I hid in mine heart, that I might not sin against thee." We cannot know what God's will for our lives is until we begin to study His word. As we learn to obey His commandments, our heart becomes joyous because we are in right-standing with God. Happiness comes in obeying God.
As we learn to obey God, the Holy Spirit moves in our hearts, changing our desires. Before, we were focused on what we wanted, what we thought was best for us. The Holy Spirit changes all that by changing our desires. Psalms 37:4 says, "Delight thyself also in the LORD: and he shall give thee the desires of thine heart." As we learn more about God and His will, then His will becomes our will. His desires become our desires because God is the center of our life. Happiness comes when God is the center of our life.
When God is the center of our life, then we want to obey Him. Unfortunately, God sometimes asks us to do things that initially, we do not want to do. Or we believe we cannot do because we are not physically, mentally, emotionally, or intelligent enough to do it. But God has given us one of the greatest promises in the Bible found in Philippians 4:13. It says, "I can do all things through Christ which strengtheneth me." In these ten little words, God assures us that we can do anything He asks us to because Jesus Christ is the source of our strength. God will provide whatever we need to accomplish the task. Happiness comes when we trust God's promises.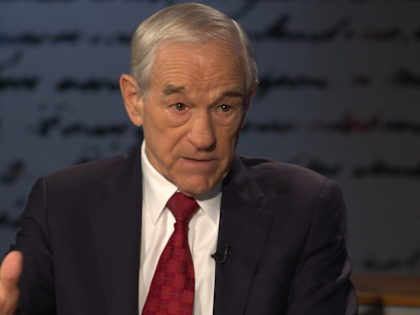 Look What Dr. Ron Paul Is Predicting Now
Ad -Stansberry Research
We can find the promises of God on almost every page in the Bible. We can stand on His promises which we know will never fail because God can not lie. How can we not have the happiness we desire when we have such promises as these to stand on:
Proverbs 3:5-6 Trust in the LORD with all thine heart; and lean not unto thine own understanding. In all thy ways acknowledge him, and he shall direct thy paths.

Isaiah 40:29-31 He giveth power to the faint; and to them that have no might he increaseth strength. Even the youths shall faint and be weary, and the young men shall utterly fall: But they that wait upon the LORD shall renew their strength; they shall mount up with wings as eagles; they shall run, and not be weary; and they shall walk, and not faint.

Philippians 4:19 But my God shall supply all your need according to his riches in glory by Christ Jesus.

Following God and standing on His Promises does not mean that we will not have problems. We will because we live in a fleshly body and in a fallen world that is subject to Satan's influences. Sometimes we are tempted to do things that go against God's will. If that happens, there are consequences we must face. Sometimes, bad things just happen to us even though we are living for God. We may lose a job, develop a life-threatening illness, face a possible divorce, or lose a loved one to death. None of us is immune. Another great promise that God has given us is found in Romans 8:28. "And we know that all things work together for good to them that love God, to them who are the called according to his purpose." This promise assures us that no matter what happens to us or around us, God will work things out for good. It may not be what we want or expect, but in His perfect will, He will work everything out for us. Nothing takes God by surprise ever because He knows our past, present, and future. Happiness comes when we remember that God is still in control.
We all will face problems in life, but there may be times when these problems are really persecutions that come about because of our faith in Jesus Christ and because we have chosen to follow God. If that happens, our faith may be tested, and we may wonder what good is it in serving God. But James 1:2-3 says, "My brethren, count it all joy when ye fall into divers temptations; Knowing this, that the trying of your faith worketh patience." At first glance, this sounds contradictory. How can we have joy when facing trials and persecutions? But the very fact that we are facing trials and persecution is because we have chosen to stand for God. Happiness comes in knowing that we are following God to the best of our ability.
True happiness can never be found outside of living for and serving God. When we live for ourselves, we become our own god, and we know all too well how weak and insufficient we are. That brings on unhappiness and dissatisfaction. But in serving God, we gain the happiness we searching for because we put Someone above ourselves and that Someone is God.