Once you've accepted God's free gift of salvation and asked Christ to be your Savior, you may wonder what you're supposed to do next. After all, your new life in Christ is just beginning. As is the case with any relationship, it's important that you remain in constant pursuit. No, it's not that God is trying to evade you. However, He understands that a constant pursuit of Him will keep you engaged in your newfound relationship.
If you have recently made the decision to become a disciple of Jesus Christ, let us first say, "Congratulations!" The decision that you've made will forever alter your life, both on this side of eternity and the next. Whether you were in a church building and responded to an altar call given by a minister, or you had a private conversation with a friend, family member, or someone else, you have given your life to Christ, and He has pledged to keep you for all of eternity.
However, it can be difficult to know what you're supposed to do next. When you enter into a new relationship with another person, whether it's a romantic relationship or a platonic one, there are some steps that generally follow the newfound relationship. You start making plans that include the other person. You start taking the time to interact with them regularly. Most of all, you probably make sure that other people know about this new relationship and how happy you are about it.
Sponsored
Angel Wings and Halo Adult White Angel Wings for Kids Party Costume Children's Boys Girls Halloween
View Deal
Most importantly, you remain in pursuit. Don't let the word pursuit have a negative connotation in this sense. When you're in a relationship with someone, pursuit doesn't mean that they're trying to get away from you. It doesn't mean that you have to earn the right to be in a relationship with someone. Instead, pursuit means that you are so engaged in this relationship that you want to know everything you can about that person. It means that you want to do everything possible to get as close to the other individual as you can.
Your newfound relationship with Christ is no different. No, God is not running away from you, trying to make you work to keep the relationship alive. However, He does want you to pursue Him. He wants you to pursue a greater knowledge of Him so you can be better equipped to share His love with the people around you.
The Journey Never Ends
Philippians 3:10-12 (TPT)
And I continually long to know the wonders of Jesus and to experience the overflowing power of his resurrection working in me. I will be one with him in his sufferings and become like him in his death. Only then will I be able to experience complete oneness with him in his resurrection from the realm of death. I admit that I haven't yet acquired the absolute fullness that I'm pursuing, but I run with passion into his abundance so that I may reach the purpose for which Christ Jesus laid hold of me to make me his own. I don't depend on my own strength to accomplish this; however I do have one compelling focus: I forget all of that past as I fasten my heart to the future instead.
The same Apostle Paul who planted dozens of churches and is credited with writing more than 50% of the New Testament acknowledged that he was still in a constant pursuit of Christ. That should make us all feel much better about the fact that we are pursuing God. If Paul, a man who God trusted to carry His Gospel to the very ends of the earth, still had to live a life of pursuit, we should assume that we will be tasked with the same.
Sponsored
Prayer Journal for Women: 52 Week Scripture, Devotional & Guided Prayer Journal
View Deal
The first step to pursuing God in this new relationship is understanding that the pursuit will never end. Throughout Scripture and throughout Christian history, the Christian life is often compared to a journey. However, unlike most journeys, this one doesn't end, at least not in this life. The only end of the Christian journey is when we are welcomed into Heaven by a loving Father who stands ready to spend eternity with us.
Paul explained that the best way to maximize the production of this journey is to forget about what we've left behind. Don't allow yourself to be held back by guilt, shame, or anything else regarding your past. Instead, fasten your heart to what's in front of you.
This isn't a road trip in which you have a starting point and a designated end. Your pursuit of Christ is a lifelong journey. Understanding that at the onset can help you better embrace the thrill that the journey provides.
Connecting With Other Believers
Genesis 2:18 (ESV)
Then the Lord God said, "It is not good that the man should be alone, I will make him a helper fit for him."
Road trips are fun, but they're much more enjoyable when someone else is in the car. When you can talk for hours to a friend, romantic partner, family member, or someone else that you care about while the miles tick off behind you, the trip feels more like a blessing than a burden. While the Christian journey is certainly never a burden, sharing it with others is a major blessing.
When you read the creation account found in the early chapters of Genesis, you will notice that God said everything He had made was good. The term "good" means it was perfectly whole and complete. However, when He made Adam and saw that Adam was there alone, He said that Adam's existence was not perfectly whole and complete. In other words, Adam's loneliness was not good.
God did not create the Christian journey to be a solo mission. Instead, He wants you to be connected with other like-minded believers who are in the same pursuit. When you connect with other believers, you can encourage one another, bear one another's burdens, and remind one another of what you're doing.
Find a network of other believers who can encourage you. This group of people can be one of the most valuable resources that God blesses you with.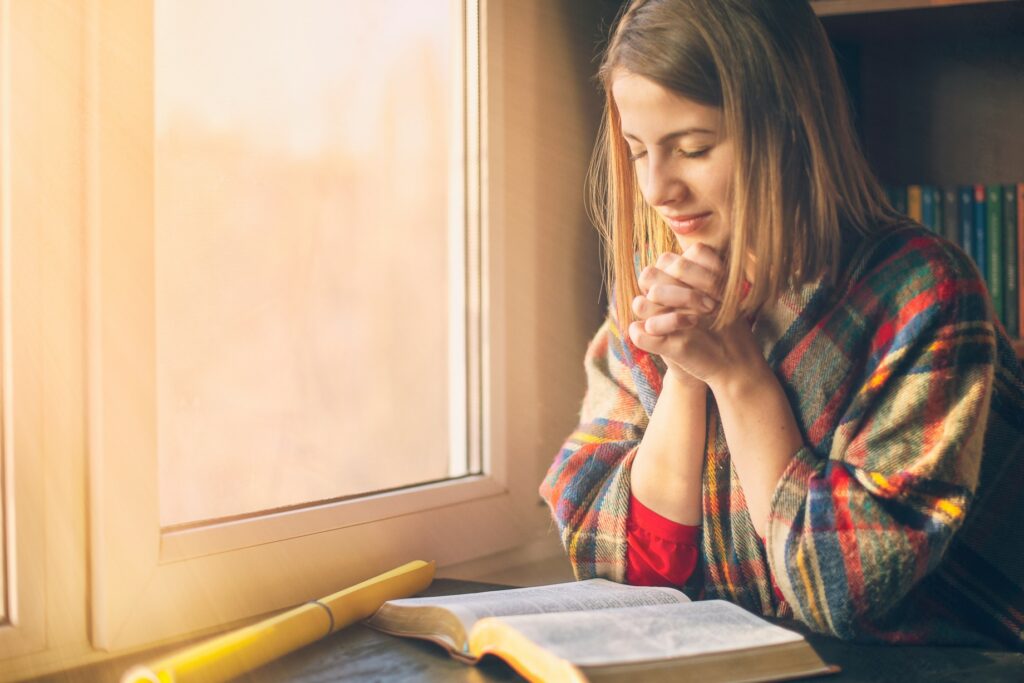 Making Time Every Day
Ephesians 5:15-16 (TPT)
So be very careful how you live, not being like those with no understanding, but live honorably with true wisdom, for we are living in evil times. Take full advantage of every day as you spend your life for his purposes.
Finally, it's vital that you spend time every day communicating with God. Communication with God, as is the case in every relationship, is a two-way street. God speaks to us, and we speak back. No, you may never have a "burning bush" experience like Moses had in the book of Exodus, but God still speaks to His people. You may not have a moment like Ezekiel had at the Valley of Dry Bones, but that doesn't mean that God isn't looking for the chance to speak to you. Every time you open your Bible, you open your soul to hear from God.
In the same vein, God wants to hear from you every day. This happens through prayer. Don't fall into the trap of thinking that prayer has to be a lengthy, poetic, impressive speech. Prayer is as simple as talking to your best friend. God isn't impressed by the quantity of our words, nor is He moved by their quality. We have a God who wants us to speak to Him authentically.
Make sure that you're spending time every day talking to God and allowing God to talk back to you. In the same way that communication is imperative for any relationship, daily communication with God is vital for the growth of this relationship.
A Closing Prayer:
Father, thank You for saving me, forgiving me, and keeping me. I know that I need to live a life in pursuit of a closer walk with You. Help me to take those steps. Remind me that this journey is a marathon, not a sprint. Surround me with people who I can pursue You with. Most of all, speak to me every day as I open my spirit to hear from You. In Christ's name, Amen.